Garrett GEN2 GTX2860R dual ball bearing Twin Turbochargers for the Nissan Skyline GT-R RB26DETT. Supports 900HP+ in twin turbo configuration.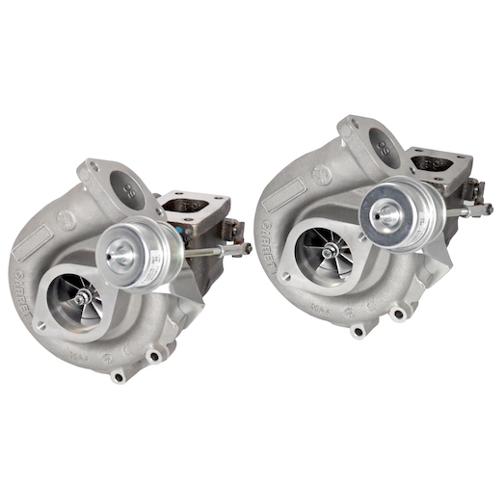 These stock location, O.E. fitment Garrett GTX Gen2 / ATP Turbos will produce up to 900hp, and bolt-on in an afternoon without modification.
Includes Two (2) turbochargers as a bolt-on twin turbo solution for stock flange exhaust manifolds and O2 housings/dump pipes!
Product Features:
Advanced aerodynamics & ultra high flow Garrett GTX GEN2 compressor wheel

Forged billet aluminum compressor wheel

Dual ball bearing CHRA rotating assembly

Bolt-on for Nissan RB26DETT motor
Product Specifications:
Compressor Wheel Inducer: 46mm

Compressor Wheel Exducer: 60mm

Compressor Wheel Trim: 58

Compressor Housing: 0.60 A/R, RB26DETT Style 2 bolt inlet flange and 2 bolt outlet flange

Turbine Wheel Inducer: 54mm

Turbine Wheel Exducer: 47mm

Turbine Wheel Trim: 76

Turbine Housing: 0.64 A/R, T25 Inlet, Internal Wastegate Design, and RB26DETT Specific 5 Bolt Outlet

Internal Wastegate Actuator: 14PSI
Applicable Garrett Part Numbers:
Note: tuning is required. 
Please contact us with any additional questions you may have by email [email protected]