TurboSmart Oil Pressure Regulator OPR T40 40psi Black
TurboSmart Oil Pressure Regulator OPR T40 40psi Black
This product is in stock and ready to ship!
TurboSmart Oil Pressure Regulator OPR T40 40psi Black
TurboSmart Oil Pressure Regulator OPR T40 40psi Black 
Providing an aftermarket turbocharger with the ideal oil pressure has always been a challenge. Traditionally, the turbocharger's oil feed has relied on a restrictor system, which are difficult to set up correctly. Some cars like Subarus run very high oil pressures while other engines run lower oil pressures.  When incorrectly sized or set up, too much oil pressure acts like a "brake" on the bearings and can be the cause of turbo seal leakage and blow-by. Turbosmart's Turbo Oil Regulator ensures the oil pressure going to the turbocharger never exceeds the maximum pressure turbocharger manufacturers specify for oil supply, regardless of engine oil pressure. The result is an oil delivery system that is more reliable and easier to setup than a standard restrictor system.  No Hype, no BS, this is the real deal.  Reducing pressure noticeably outperforms restrictors (which only reduce volume) on turbine shaft braking effect.  
One of our favorite new products - Turbosmart's OPR T40 is an oil pressure regulator for your ball bearing turbocharger.  The OPR helps prevent compressor or turbine stage oil leaking or smoking, and takes the guesswork out of oil restrictor sizing for more efficient and effective oil delivery.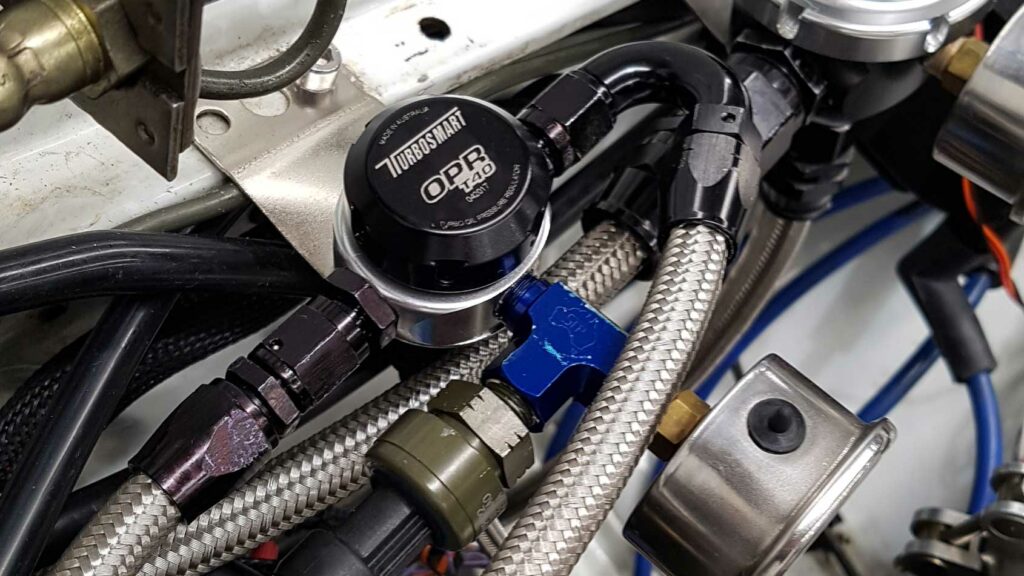 VIEW AND DOWNLOAD PDF INSTRUCTIONS
For SHOP OWNERs
& KIT BUILDERs
Full-Race Motorsports is the most
trusted name in turbocharging.
Wholesale Inquiries